I spent the past half hour typing a really good blog,
and in a split second,
I lost everything.
Stupid browser crash.
.
Cliche.
Heard that.
Done that.
Nothing new.
.
My immediate reaction – screw this. Not going to retype. Too many other things to do. Blogs are a waste of time anyway. Sour grape. Just forget it.
My logical sense said – note this. Golden opportunity. Second iteration yields higher quality. Incorporate reflection, metacognition, refinement.
.
OK. Here goes nothing.
….
….
This morning I woke up at 5am.
I had a revelation.
….
WAIT A MINUTE… I just noticed something in the corner of my eye. At the bottom of the textbox editor, was a small automated text. It said, "Draft saved at 2:06:56 pm. Last edited by rozhussin on March 31, 2013 at 1:53 pm".
OMG!
I didn't lose my blog??
What a bonus!
OK. But where is the draft saved? This is my first blog site ever. How the heck would I know how to retrieve the auto saved draft?
OK. Going to go find it. Will come back to this paragraph in a bit.
…….
…….
OK. I'm back. Found it. Feel stupid. This stuff isn't rocket science. It just requires diligence, and a little dose of curiosity. Anyway, I copy-pasted the auto-save version below. All is good. I learned a lot today.
….
….
Original blog:
I woke up this morning at 5am.
I had a revelation.
Nothing big. Just a sudden clarity.
I had been struggling with keeping up with my many MOOCs, blogs, G+ posts, etc. As always, my method of immersion-learning (a.k.a. "binge learning") is often a double edged sword.
Jump in. Dive deep. Immerse. Take it all in. Bring it on. It's the fastest way to explore all possibilities, surest route to making the most mistakes, and quickest path to learning the hard way. And that is exactly what I have been experiencing the past 3 months. A whirlwind of learning. A tornado of enlightenment.
I loved it!
My brain was alive!
But now, I was drowning in a pool of wet aftermath.
My thoughts are scattered all over the place. Some in blogs. Some in G+. Some in comments on other people's blogs, other people's G+ spaces, and other places I can't even remember. It felt wonderful to share. But maybe I'm not as benevolent as I thought I am. Now, I want to retrieve those thoughts I poured out. I want to re-read my own inner revelations. But I can't. Why?
Because for the life of me, I honestly can't recall where the heck I typed whatever it is that I typed!
Damn it!
I wondered how other people do this. Surely there is a science to this madness? This must be a skill that people acquire. A competency for survival in this online Connectivist (Siemens, 2008) world. A competency that, obviously, I do not yet have. Someone should make a Mozilla badge for this skill!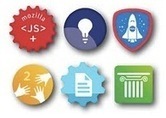 Last night I went to bed, once again, like I had in the past 3 months, feeling totally invigorated after having read and contributed to at least a dozen dialogs online. Be it a simple +1 on G+, or a heart and gut wrenching story I typed out in a spurt of creative vomit. My brain felt alive as I was settling in under my cozy comforter.
But almost immediately after that, the sine curve switched polarity, and I was on the down slope, slipping past the zero, into the negative zone of despair. I suddenly realized that by morning, I would have totally forgotten where I had posted, who I had posted to, or how to get back to where I had posted at.
Darn it!
Why did I not know this competency? What does it take to learn this? Who can I learn it from?
How come I've never seen discussions online about this strand of knowledge? After all, it IS a form of "knowledge". The ability to be autonomous yet accountable for one's contributions to this new semantic online world.
I went to bed with a virtual grey cloud over my pillow. It poured virtual pellets of hail onto my already pounding head all night long. Needless to say, I probably didn't get my full night's worth of REM sleep.
Then at 5am, thanks to Daylight Savings Time, when the first ray of sun squeezed through my window blinds, I suddenly had an epiphany.
Nothing big. Just a sudden clarity.
It's all about sequence.
It's all about hyperlinks.
Self first. Post in personal blog. Pour out. Vomit thoughts. Don't edit. Just document.
Then share. Copy blog URL. Share in public space. Perhaps G+, MOOC forum, whatever, wherever. If needed, overlay with explanation. Contextualize. Make it meaningful to the community space in which this shared link will "live" in. Remember to subscribe. Remember to set push notification.
Then wait. Let the seed germinate. If the share was meaningful in context, responses will follow. If not, then, lesson learned. Repeat steps one and two with more refined effort. Or… not. Who cares anyway? Depending on topic, maybe some posts never need responses. Rhetoric is beautiful in itself. Sometimes, silence is more powerful than noise.
Lastly, when that little voice comes back, days later. Trying to remember what was said before. Then, there's the original blog to reminisce on, plus, there's a systematic array of received notifications to reference to.
Epilogue:
This blog is my first experiment of the above method. I'm going to post this in my G+ space and a few MOOC forums/spaces. I wonder how it will turn out?
Link to discussions:
Link to similar reflections blog at E-Learning Provocateur :
Link to interesting relevant comment in response to published article (see comment by stevecovello :
Link to discussions on "binge learning":